Badnaam Ishq Lyrics by Korala Maan is Latest Punjabi song sung and written by Korala Maan and this song is featuring Sruishty Mann while music of this new song is given by Desi Crew and video is directed by Parm Chahal.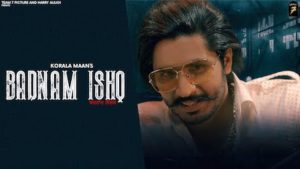 Badnaam Ishq Song Details:
Badnaam Ishq Lyrics
Gareebi Berojgari Te Maahde Halat
Jadon Lak Tod Dinde Aa
Ohdon Banda Aasmaan Di
Hiq Paadan Di Jurat Rakhda Ae
Kinni K Der Aakhir Kinni K Der
Dharti Haner Chaldi
Kinni K Der Rehnda Khamosh Khoon Oda
Reteyan Cho Road Chabh Chabh
Jhuggiyan Ton Mehlan Da Rutba Rakh
Takhteyan Diyan Mekhan Ton Tapp Ke
Notan Nu Lattad Diyan Maseehe Di
Stage Te Aa Baitha Korala
Badnaam Ishq Song Is Releasing Soon.
we will publish the lyrics and video after the song release, Stay Tuned!
Written by:
Korala Maan
Found Any Mistake in Lyrics?, Please Report In Contact Section with Correct Lyrics!
You may also like…