Hello Kaun Lyrics by Vijay Verma, Renuka Panwar is Latest Haryanvi song written by Vijay Varma, Andy Dahiya featuring Shweta Chauhan. The Rap of the song sung by Makk V and music of new song is also given by Makk V while video is directed by Vijay Varma.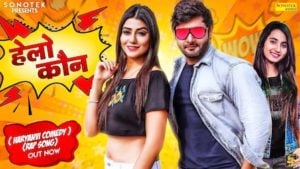 Hello Kaun Lyrics
Hello Kaun?
Re Main Su
Main Kon?
Arrey Main
Main Toh Bakri Hove Sai
Uske Dhore Kareya Phone
Karan Laagi Bairan Dhong
Uske Dhore Kareya Phone
Karan Laagi Bairan Dhong
Sahi Number Ne Ekdum Te Boli Wrong
Hello Kaun?
Tera Jaanu, Tera Naanu
Teri Sindori, Khand Ki Bori
Samaar Diyungi
Haaye Re Mistri
Tanne To Chhed Diye Bhitar Ke Taar
Ibb Chaahe Sandal Ya Chappal Te Maar
Iss Tariyan Na Chhode Na Beech Mein Saar
Karni Padegi Haan Phone Pe Baat
Andy Dahiya Vijay Verma Gaa Denge Hit Song
Sahi Number Ne Yaar Bole Na Wrong
Haan Bole Na Wrong, Bole Na Wrong
Ke Dikkat Hai Tere?
Baby Ne Khaana Khaya?
Off Ho Problem Ke Hai?
Mere Bachche Ne Khaana Khaya?
Kyun Tanne Maahre Bartan Saaf Karne Hain
Bhai Manne Laage Hai Bhaabhi Badalgi Sai
Pyaar Tanne Karya Karti Baat Ya Kal Ki Sai
Uske Love Ki Chitthi Ne Jad Te Tu Paad De
Uske Bewafa Ne Tu Apne Dil Te Kaadh De
Chhotu Tu Pagal Hai Ya Ke Baat Hove Sai
Baat Issi Number Pe Poori Raat Hove Sai
Number Yo Wrong Na, Na Wrong Chhori Sai
Laagi Nazar Pyaar Ke Gadbad Ya Ho Ri Sai
Bhai Wa Dekh Bhabhi Aagi
Tanne To Baandh Diya Tha Mera Kaam
Highlight Kar Diya Tha Mera Naam
Gusse Mein Hoke Mummi Ban Gayi Thi King Kong
Sahi Number Bhi Bolna Pad Gaya Tha Wrong
Hello Kaun?
Mera Baby, Mera Shona
Mera Bachcha, Mera Babu
Ibb Ibb Ke Maaf Kar De Galti Ya Hogi
Phone Pe Hello Kaun Phir Na Kahogi
Mummy Te Milke Ne Solution Kar Diye
Issa Hai Tu Phone Pe
Hello Kaun Hi Keh Diye
Found Any Mistake in Lyrics?, Please Report In Contact Section with Correct Lyrics!
You may also like…